In Memory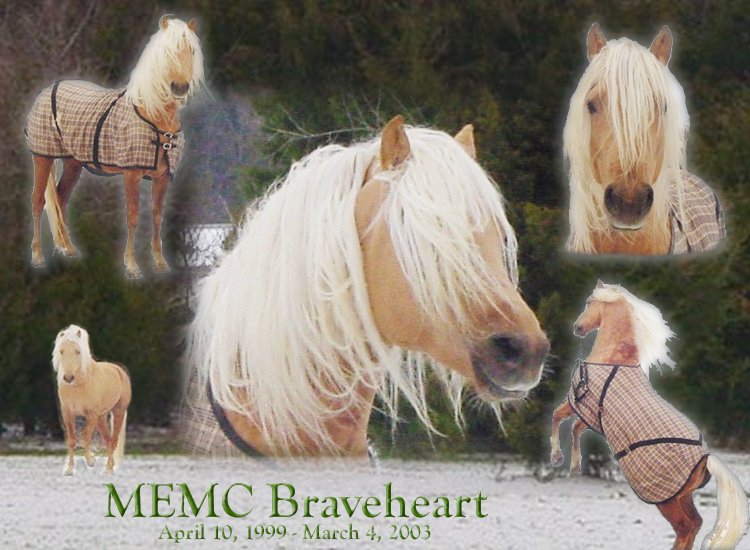 Collage photos taken February 27, 2003
It was with great sorrow that I had to say goodbye to my best buddy, Braveheart. He was a standard with which I will strive for in my breeding program always. Braveheart waged a valiant battle his last few months with great dignity and the bravest of hearts. In the spirit of all that, we found the right time to say goodbye.

~Jennifer Weske-Monroe~
Nashboro Sir Galahad
Nashboro Dakota Gold
Bridlewood Bennigan
Nashboro Tifiny Gold
Nashboro Shasta
Allen's Oglala Gold
Glyn's Jubilation
SFG Passion Flower
Light My Fire
Gaylyn Surprise
Ransomvale Barbyalan
Tiffin Galatea
Shaker's Sheridan
Ransomvale Georgia
MORE PHOTOS OF BRAVEHEART!!
Taken November 6, 2002
Click on the images below to see a larger image.
At 2 years old

Photos below as a 3 year old.
At 2 years old - photos are full size

MEMC Morgans
"Your Exotic Morgan Connection."
Jennifer Weske-Monroe
3662 CR 338
Melissa, Texas 75454
Phone (972) 547-4331
Fax (972) 547-6180
memcmorgans@aol.com
Photos & Graphics copyright © 2000 MEMC Morgans, unless otherwise noted.
Backgrounds and other graphics created by TDM Equine Design.
It is a violation of copyright laws to use any of these Photos or Graphics
without written permission from the owner of these images.
Please report site problems to the webmaster.