MEMC ON TARGET
2007 Buckskin Homozygous Splash
AMHA# 176770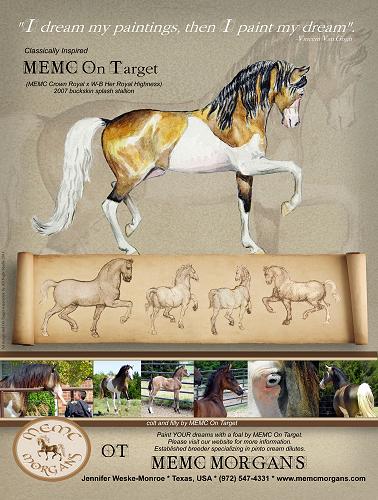 ~ MEMC Morgans ad 2011 ~
Click image to view full version of ad in new browser window.
Watch Tiger's YouTube Video!
(video taken Summer 2007 ~ age 5 months!!)
If you have dial-up and would prefer to watch the video at your own convenience,
simply click the "Pause" button above. Then you can right click here to bookmark
the YouTube link, and watch the video when you're ready.
"Tiger" is a horse of a lifetime. I feel blessed to have had this boy born here and there is not a day that goes by where I don't find myself impressed by so many things about him. He offers so much to me, my breeding program and, I believe, the Morgan breed. Tiger is a large colt with excellent conformation, upheadedness, way of going and tremendous breed type. He is the very essence of the Morgan horse and then there is his stunning color. Tiger carries both the cream gene and the splash gene. He may also have the sabino gene which is also evident in his family. He is a buckskin homozygous splash and will grow up to produce many fine Pinto Morgans. Tiger is also, and most importantly, a really great guy. He's gentle, willing, attentive and loves interaction. He has a charisma and magnificence that was evident from his first moments. I can't wait to watch him mature.
MEMC Crown Royal
Robbi Sue's Mr Alert
Glamorgan Vista
Robbi-Sue Misalert
King Blaze Mint
Windhoverenchantmint
Icestone Whitewing
W-B Her Royal Highness
Windhoverenchantmint
Beamington
Milady Dona
Icestone Whitewing
Townshend Don Bird
Tamarlei Pa Waltz
MORE PHOTOS OF TIGER!!
Click on any image below for a larger view
~ 2012 - 2013 ~

Fall 2011

~ 2010 ~

~ 2009 ~

October 2009
Photos by Beth Binion

October 2009
Photo by Diana Jasica

Image is full size

~ 2008 ~
Tiger Art