THE MEMC STUD
Please see the individual pages of Senior and Junior stallions for information and specific forms and contracts for those stallions standing at public stud for 2014.
Select a Stallion page to visit below by clicking on the appropriate button.
MEMC Tequila Cuervo (cremello)
MEMC Crown Royal (buckskin splash)

MEMC On Target (buckskin splash)
MEMC Magnifico (cremello)

MEMC Grandeur (cremello)
LBF Rhett Butler (palomino)
Regency Claim Jumper (buckskin)
CW's Silver Dollar (gray)
Indigo Go Gold (palomino)
Nashboro Sir Galahad (cremello)
High White Revolution (chestnut sabino)
Nashboro Valentino (flaxen liver chestnut)
All Things Considered (palomino)

In Memory Of
MEMC BRAVEHEART
"The flame that burns twice as bright, burns half as long"
Golden Palomino
AMHA #146994
April 10, 1999 - March 4, 2003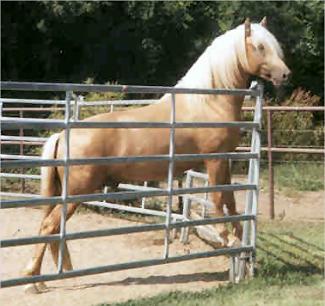 Please visit Braveheart's Memorial Page.

Nashboro Sir Galahad
Nashboro Dakota Gold
Bridlewood Bennigan
Nashboro Tifiny Gold
Nashboro Shasta
Allen's Oglala Gold
Glyn's Jubilation
SFG Passion Flower
Light My Fire
Gaylyn Surprise
Ransomvale Barbyalan
Tiffin Galatea
Shaker's Sheridan
Ransomvale Georgia
Home | Stallions | Mares | Foals | Sales | Photo Gallery

MEMC Morgans
"Your Exotic Morgan Connection."
Jennifer Weske-Monroe
3662 CR 338
Melissa, Texas 75454
Phone (972) 547-4331
Fax (972) 547-6180
memcmorgans@aol.com
Photos & Graphics copyright © 2000 MEMC Morgans, unless otherwise noted.
Backgrounds and other graphics created by TDM Equine Design.
It is a violation of copyright laws to use any of these Photos or Graphics
without written permission from the owner of these images.