Paypal payments accepted. Buyer pays fees.

MORGANS FOR SALE
No horses currently for sale.
Please check back periodically as there will be some Morgans available here in 2014.

MEMC Horses in Art
Click below to view artwork of some MEMC horses by various artists.
Artwork
MEMC CROWN ROYAL by Kim Gabriel

This artwork is for sale.
See Artwork page for more details.
MEMC India and MEMC Soft Spoken by Kim Gabriel

This artwork is for sale.
See Artwork page for more details.
~ ~ ~ ~ ~ ~
A BREEDER'S RESPONSIBILITIES
Below is a photo of my first two MEMC foals, MEMC Tinseltown (colt) and MEMC Finer Things with my 5 yr old son, Connor. It is amazing how fast the time goes. I am placing this here in hopes that everyone who reads it through will then understand my awareness and distress to find out how MEMC Tinseltown was subjected to a terrible plight here in 2010.
There are many things being said, but I think viewing Tio's returned condition speaks the truth; as do the evaluations of his longtime veterinarian, local animal control and the shippers who transported him out to Washington and back to Michigan. This normally easy keeping round Morgan came home around 300# underweight and eating his own manure as the vet said it appears to be much of what he had to eat.
It is heartbreaking to me as his breeder to see this happen and I helped to mediate the situation to get him home safely. Tio is home now and doing well. He may have gone through a great deal of ill care and is somewhat head shy now but he is eating everything in sight and happily greets everyone who comes to see him. He has a good heart and strong will, and he did not let that mental and physical stress change him. That also speaks volumes for what kind of horse he truly is on the inside. Read more on Tio here, http://www.sfgmorganhorses.com/forsalecontactus.html.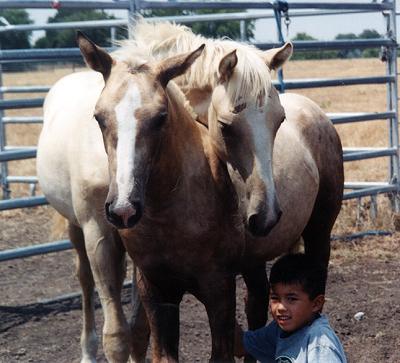 For all of us breeding, please be reminded as I am that these beautiful creatures we create deserve the best and if we cannot help keep a watchful eye on them and be prepared to step up as needed to aid them through their lives, maybe breeding is not a good choice. I am grateful for all the wonderful homes I have found for horses I've bred. I've bought or taken some back, I do first right of refusals on sales but something like Tio's story still takes you aback. Let us all try to breed wisely and for the right reasons.
~ ~ ~ ~ ~ ~

AS ALL HORSES FOR SALE ARE SUBJECT TO PRICE CHANGES FOR MANY REASONS, PLEASE CONTACT US DIRECTLY FOR THE MOST CURRENT PRICES ON INDIVIDUALS OF INTEREST.
Home | Stallions | Mares | Foals | Sales | Photo Gallery
MEMC Morgans
"Your Exotic Morgan Connection."
Jennifer Weske-Monroe
3662 CR 338
Melissa, Texas 75454
Phone (972) 547-4331
Fax (972) 547-6180
memcmorgans@aol.com
Photos & Graphics copyright © 2000 MEMC Morgans, unless otherwise noted.
Backgrounds and other graphics created by TDM Equine Design.
It is a violation of copyright laws to use any of these Photos or Graphics
without written permission from the owner of these images.