W-B HER ROYAL HIGHNESS
(Windhover Enchantmint x Icestone Whitewing)
1997 Black Chestnut Splash/Sabino mare

Produce:
MEMC Graffiti, 2005 Palomino Sabino filly x MEMC Tequila Cuervo
MEMC Gold Card, 2006 Palomino filly x MEMC Tequila Cuervo
MEMC On Target, 2007 Buckskin Splash White colt x MEMC Crown Royal
MEMC Royal Heiress, 2008 Palomino Sabino/Splash filly x MEMC Crown Royal
MEMC Enchantmint 2009 Palomino filly x MEMC Grandeur
MEMC Confetti, 2010 Splash Sabino Palomino filly x MEMC Tequila Cuervo
MEMC Vegas, 2011 Splash Sabino Chestnut colt x MEMC Crown Royal
MEMC CONFETTI
(MEMC Tequila Cuervo x W-B Her Royal Highness)
2010 Palomino Splash Sabino mare
RUDDELL'S ROYAL COMET
(Heathermoor Heritage x Motif Hill Majorett)
1997 Black mare

Produce:
MEMC Toro, 2011 Buckskin Splash Sabino colt x MEMC On Target
JAR SWEET PROMISE
(Cedar Creekharlequin x RRG My Promise)
1999 Brown mare
MEMC ENCHANTMINT
(MEMC Grandeur x W-B Her Royal Highness)
2009 Palomino Pinto mare
MEMC ROYAL HEIRESS
(MEMC Crown Royal x W-B Her Royal Highness)
2008 Palomino Sabino/possible heterozygous Splash mare
MEMC GENEVIEVE
(MEMC Grandeur x Alatheia Fire N Ice)
2009 Palomino Sabino mare
KING BLAZE MINT
(Windhover Enchantmint x Icestone Whitewing)
1991 Black Chestnut Splash/Sabino mare

Produce:
MEMC Crown Royal, 2003 Buckskin splash sabino colt x Robbi Sue's Mr Alert MEMC Chivas Regal, 2004 Palomino sabino colt x MEMC Tequila Cuervo
MEMC Glimpse Of Glitter, 2005 Palomino sabino filly x MEMC Tequila Cuervo
MEMC GLIMPSE OF GLITTER
(MEMC Tequila Cuervo x King Blaze Mint)
2005 Palomino mare
MEMC CASABLANCA
(MEMC Tequila Cuervo x MEMC Custom Made)
2007 Cremello mare
GOLDEN ACRES PRECIOUS LADY
(Golden Acres Gold Digger x Precious Flight Time)
1997 Palomino mare

Produce:
Far Far Away, 2007 Cremello Filly x Amberfields Desperado
MEMC Amante, 2008 Buckskin Colt x MEMC Crown Royal
MEMC Royalty at OBH, 2009 Perlino colt x MEMC Crown Royal (sold in utero to Belgium)
EDGEWOOD NATALIE MORO
(Edgewood Masterpiece x Edgewood Leah Moro)
1994 Bay mare. FOUNDATION BRED

Produce:
MEMC Party Shoes, 2005 Palomino Sabino filly x MEMC Tequila Cuervo
MEMC India, 2006 Chestnut filly x Indigo Go Gold
MEMC Zane Grey, 2008 Brown based Grey colt x CW's Silver Dollar
SFG PASSION FLOWER
(Light My Fire x Tiffin Galatea)
1993 Bay Mare. FOUNDATION BRED

Produce:
MEMC Finer Things, 1998 Palomino Filly x MEMC Tequila Cuervo
MEMC Braveheart, 1999 Palomino Colt x Nashboro Sir Galahad
MEMC Custom Made, 2000 Buckskin Filly x Nashboro Sir Galahad
MEMC Columbia, 2003 Buckskin filly x MEMC Tequila Cuervo
MEMC Poet, 2004 Palomino colt x MEMC Tequila Cuervo
MEMC Orion 2006 Buckskin colt x All Things Considered
MEMC Earl Grey 2008 Grey colt x CW's Silver Dollar (Bred by MEMC and sold in utero)
MEMC CUSTOM MADE
(Nashboro Sir Galahad x SFG Passion Flower)
2000 Buckskin

Produce:
MEMC Romantico, 2006 Perlino colt x MEMC Crown Royal
MEMC Casablanca, 2007 Cremello filly x MEMC Tequila Cuervo
MEMC FINER THINGS
(MEMC Tequila Cuervo x SFG Passion Flower)
1998 Palomino ~ 100% Foundation

Produce:
MEMC FINEST HOUR, 2002 Cremello filly by Nashboro Sir Galahad
MEMC GRANDEUR, 2004 Cremello colt by Nashboro Sir Galahad
MEMC VERMILLION, 2007 Sabino Chestnut filly by MEMC Crown Royal
KEE LADY APHRODITE
(Pal-A-Mors Gold Nugget x Kee Crooked River Gold)
1996 Cremello ~ 100% Foundation

Produce:
MEMC DAYTONA GOLD, 2001 Sabino Palomino filly by High White Revolution
MEMC LEGALLY BLONDE, 2002 Cremello filly by Nashboro Sir Galahad
MEMC MAGNIFICO, 2007 Cremello colt by MEMC Tequila Cuervo
ASWYN NORA ASHBROOK
(Madrona Rubicon x Wachuset Meredith)
1997 Bay FULL LIPPIT mare

Produce:
MEMC LADYHAWKE. 2005 Sabino Smokey Black filly by MEMC Tequila Cuervo
MOCCASIN BRANCH TECATE, 2007 Buckskin colt by MEMC Tequila Cuervo (co-owned)

Spring 2005

August, 2005
AWEE BLAZE OF GLORY
(SP Captain Hook x Hicourt Cachet)
1998 Chestnut sabino mare

Produce:
MEMC AMERICAN IDOL, 2005 Sabino Palomino filly by MEMC Tequila Cuervo
NASHBORO TIFINY GOLD
(Allen's Oglalla Gold x Stonefield's Campana)
1981 palomino mare

In Memory 1981-2006
"A Matriarch"

Produce:
Grand-dam of Nashboro Sir Galahad, Nashboro Valentino, and MEMC Orion and dam of All Things Considered all owned by MEMC
HRH FANCY
(Evenmist Commander x Dor Vern's Victoria)
1996 Bay sabino mare

Produce:
MEMC LICKETY SPLIT, 2000 Sabino Chestnut filly by High White Revolution
MEMC GLADIATOR, 2001 Palomino colt by Nashboro Sir Galahad
GALAHAD'S GOLD AMBASSADOR, 2002 Palomino colt by Nashboro Sir Galahad (sold in utero)
GOINGS DREAM COME TRUE
(Alatheia Bold Legacy x Magicmotion)
1994 Bay mare

Produce:
ALATHEIA FIRE N ICE
MEMC TALL ORDER, 2003 Sabino Bay colt by High White Revolution
SPRING HOLLOW BLACK ICE, 2004 Smokey Black filly by MEMC Tequila Cuervo (sold in utero)
BETHESDA IRRESISTABLE
(Bethesda Avenger x Misty May)
1991 Bay mare

Produce:
MEMC CALIENTE, 2002 Palomino filly by Nashboro Sir Galahad
RIVERSONG MANDOLIN, 2003 Palomino filly by Nashboro Sir Galahad (sold in utero)
BELLEMOUNT'S MAGIC MOMENT
(Culpeper Crescendo x Early Morning Magic)
1988 Chestnut mare
Produce:
HIGH WHITE REVOLUTION, Sabino colt x High Water Running Star
KIN UMA , 2004 Sabino Palomino filly by MEMC Tequila Cuervo (sold in utero)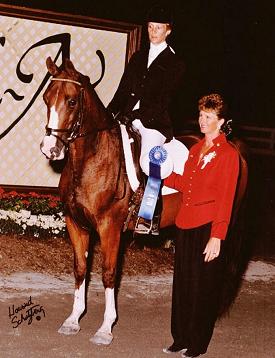 RIVER SONG MINUET
(Oak Creek Rare Trust x Surpize's Fyste Flame)
Chestnut mare
1999 - 2009

Produce:
MEMC HIGH TIMES, Chestnut Sabino colt x High White Revolution
ADVENTURES SATIN
(Tug Hill Commando x Adventures Elegance)
1996 Chestnut mare

Produce:
MEMC SONNET GOLD, 2000 Palomino filly by Nashboro Sir Galahad
MEMC SAHARA GOLD, 2001 Sabino Palomino filly by Nashboro Sir Galahad
RELANDS DELILAH
(Shaker's Rio x Jerusha)
1992 Chestnut mare

Produce:
PRODUCE: MEMC PLAYBOY 2004 Palomino colt by MEMC Tequila Cuervo
Home | Stallions | Mares | Foals | Sales | Photo Gallery

MEMC Morgans
"Your Exotic Morgan Connection."
Jennifer Weske-Monroe
3662 CR 338
Melissa, Texas 75454
Phone (972) 547-4331
Fax (972) 547-6180
memcmorgans@aol.com
Photos & Graphics copyright © 2000 MEMC Morgans, unless otherwise noted.
Backgrounds and other graphics created by TDM Equine Design.
It is a violation of copyright laws to use any of these Photos or Graphics
without written permission from the owner of these images.