MEMC MORGANS has two stallions to stud for 2014. MEMC TEQUILA CUERVO and MEMC CROWN ROYAL, both by FROZEN SEMEN. Please contact me at memcmorgans@aol.com for specific info, questions, costs, and contracts on these two stallions.

ALSO available IN VERY LIMITED SUPPLY is frozen domestic semen by the deceased cremello stallion, NASHBORO SIR GALAHAD. Some photos of him can be found on the REFERENCE STALLION page noted below.

Please visit us at MEMC MORGANS on FACEBOOK for the latest news and photos of the MEMC Morgan horses. Thank you and best wishes in your Morgan pursuits!

MEMC TEQUILA CUERVO
1994 Metallic Golden Creme
15.3H
AMHA#137167
100% FOUNDATION BRED
Pedigree Analysis by Ina Ish for Polly Smith
(This file is on the Little Brook Farm site.)

~ MEMC Tequila Cuervo ~
~ 2009 Breeders Saddle Horse Report Top 10 Overall Western Pleasure Sire ~


2007 MEMC ad by Lynn Peterson
Click for larger version.
For all of my life and with all of my heart, I will love this horse. He has truly been one of the greatest gifts in my life. Tequila is a FOUNDATION bred Morgan with a strong pedigree rich in true Morgan heritage and type. He has utterly straight legs and perfect feet, he moves straight and has tremendous push from the rear. His trot is both up and out and he has that rare "air-time" to his trot. He can go forward strongly or collect up very slow. It is easy for him with his balanced conformation. He has a wonderful sculpted head and a perfect Morgan neck, clean but manly just like it should be and in perfect proportion to the rest of him. Few people would refute the impact that Tequila has had upon the colorful Morgan since he began his breeding career. Tequila has proven himself as a valued sire of guaranteed colorful offspring whose get, grandget and beyond show his influence, the mark of a prepotent sire. Today, Tequila's foals can be found all about the US, Canada and Europe. He is an excellent breeding stallion.

Around here we call Tequila **The Lion King**. Not because he has to come out every day trying to prove he is the best, the big man. It is because he doesn't have to....... what he has comes from the INSIDE. Tequila is bold and charismatic but kind. He's a big show off when people come and yet hardly breathes when a little child, kitty or dog bumps into him or even under him (yes, it has happened!). He is my best friend and every day he finds a way to show that I am his. He also gives great hugs!

Charisma in Creme.........Cuervo!
Triple S Bald Eagle
Triple S Gold Eagle
Triple S Red Wing
Triple S Goldusty
Triple S Red Carmen
Blackwood Correll
Lita
Twine Pines Sara
Elm Crest Squire
Hylee's Torchlight
Gidget
Mrs O
Nugget Star
Mortana Allie
MORE PHOTOS OF TEQUILA!!
Click on any image below for a larger view
~ 2012 - 2013 ~

~ 2011 ~

May 2011

~ 2011 ~

August 2011

~ 2010 ~

September 2010

~ 2009 ~

August 2009

October 2009

Photos below by Beth Binion & Diana Jasica

August 2011
In Dressage Training - 2001

RECENTLY ADDED PHOTOS

November 2003
| | | |
| --- | --- | --- |
| | | |
| | | |
| | | |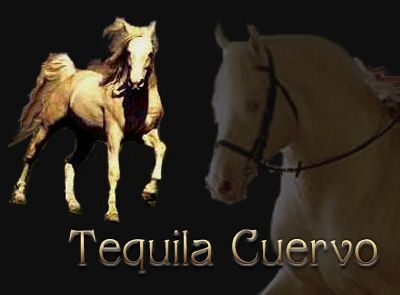 Downloadable video clips for Tequila now available!!

MEMC CROWN ROYAL
2003 Buckskin Splash/Sabino
AMHA#162601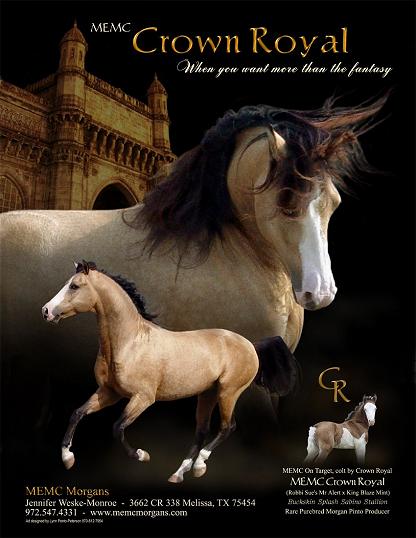 MEMC Crown Royal ad 2007~ design by Lynn Peterson
Click image to view larger version of ad in new browser window.
(approx 112 kbs)
MEMC Crown Royal is a most rare and fascinating young stallion. "Caesar" has endeared me from the moment he was born. He has a kind, generous nature and has been a delight to watch mature. Caesar has that "old soul" persona about him just like his dam, King Blaze Mint. In addition to his expressive personality, Caesar is quite colorful with four white socks, large blaze with white chin and a partial blue eye. He is one cool looking guy and knows it; carrying himself upheaded with pride and pizzazz. I am excited about the potential Caesar offers to the MEMC breeding program. I have retained Caesar to contribute his long curvy neck, refinement, balanced movement and wonderful mind to my future foals. Carrying both the sabino and splash Pinto genes in addition to his cream dilution gene, he is bound to add some color to his offspring too. What luck I had to get this boy!!
Robbi Sue's Mr Alert
Glamorgan Vista
Townshend Vigilstarr
Windcrest Charm
Robbi-Sue Misalert
Robbi Sue Moralert
Pendleton Buck Missy
King Blaze Mint
Windhoverenchantmint
Beamington
Milady Dona
Icestone Whitewing
Townshend Don Bird
Tamarlei Pa Waltz
MORE PHOTOS OF CAESAR!!
Click on any image below for a larger view
~2010 - 2013~

~2007~
4 Years Old

~2006~
3 Years Old

Spring 2005

2003

See Reference Stallions page for more photos.
For extended pedigree, visit AllBreedPedigree.

Home | Stallions | Mares | Foals | Sales | Photo Gallery

MEMC Morgans
"Your Exotic Morgan Connection."
Jennifer Weske-Monroe
3662 CR 338
Melissa, Texas 75454
Phone (972) 547-4331
Fax (972) 547-6180
memcmorgans@aol.com
Photos & Graphics copyright © 2000 MEMC Morgans, unless otherwise noted.
Backgrounds and other graphics created by TDM Equine Design.
It is a violation of copyright laws to use any of these Photos or Graphics
without written permission from the owner of these images.